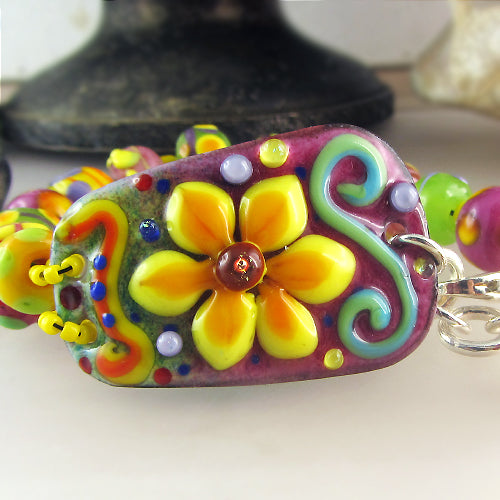 Sunshine ♥ Copper Art lampwork Bracelet
$165.00
This funky Bracelet consists out of: Handmade Lampwork beads a hand forged torch fired enameled Copper bar. All lovingly handmade by Michou Pascale Anderson.
Enameled Copper bar approximately: 43 mm x 29 mm widest 
Weight/Gewicht: 41 g
Matching a 16,5 to 17,5 cm wrist (6.49" to 6.88"). If that should be not your size? I can make it longer or shorter.
Dieses farbenfrohe Armband besteht aus: Handgefertigten Lampwork-Perlen und einem handgeschmiedeten, emailliertem Kupfer Element das mit dünnen Glasfäden im Feuer (Brenner) verziert wurde. Die Lampwork Glasperlen und das Kupferstück wurden liebevoll von Michou Pascale Anderson in ihrem Atelier in Hamburg handgefertigt. 



Item details: Handmade item
Material: Lampwork Beads, enameled torch fired Copper bar, Sterling Silver