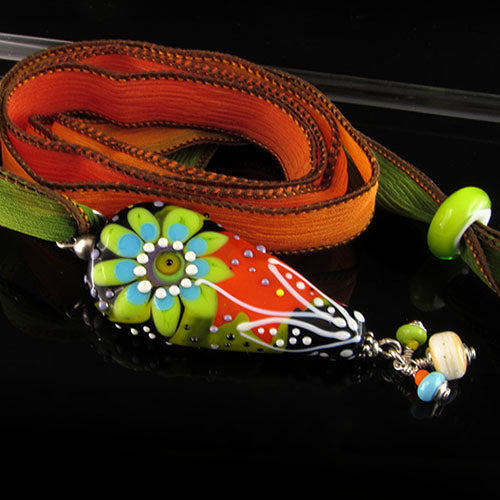 Sunshine - Lampwork Pendant Necklace
$87.00
A big focal lampwork bead lovingly made by me comes along with h
and sewn and dyed silk ribbon made of Crinkle Georgette. At the end of the necklace is a big hole lampwork bead it is used to move one can vary the length without having to tie it.
The bead has been wire worked with sterling silver into a pendant. The dangles are made out of very tiny spacer beads also made by me.
size of the lampwork bead: 51 mm x 26 mm x 10 mm thick - (2.00" x 1.02" x 0.39")
size pendant: 85 mm long (3.34"
size silk ribbon: 104
 cm (40.94") 
Eine große, von mir liebevoll hergestellte Glasperle kommt an einem handgenähten und gefärbten Seidenband aus Crinkle Georgette.
Am Ende der Halskette befindet sich eine Glasperle, mit der man die Länge verändern kann, ohne sie knüpfen zu müssen.
Die Perle wurde mit Sterling Silber zu einem Anhänger verarbeitet. Die Charms bestehen aus sehr kleinen, mini spacer Glasperlen die ebenso von mir gefertigt wurden.