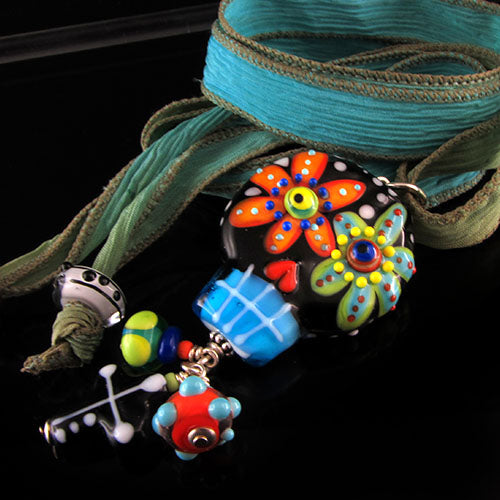 Sugar Skull - Lampwork Pendant/Necklace
$106.00
One of a kind sugar skull pendant on a hand dyed silk ribbon.
Approximately:
Sugar Skull: 40 mm long x 34 mm width x 13 mm thick
The Silk Ribbon is approximately 104 cm (40.94") 
and is decorated with 2 spacer beads at the very end.
The dangles consists out of:
1 tiny polka dot spacer bead in turquoise, yellow/green, 
1 orange bead with turquoise raised dots, 
1 black cross with fineness white lines and tiny whit dots, 
2 little spacer beads in turquoise and royal blue. 
To complete the design I only used sterling silver ( wire, daisies, pins and loops).
Die Zutaten für diese Halskette sind:
1 Totenkopf  Glasperle: 40 mm lang x 34 mm breit x 13 mm dick.
1 handgefärbtes Seidenband in Türkis / Grün. Länge circa 50 cm 
Die Charms bestehen aus: einer kleinen Polka dot Glasperle in türkis, eine orangefarbene mit türkisfarbenen Punkten und einer schwarzen Kreuz lampwork Perle.