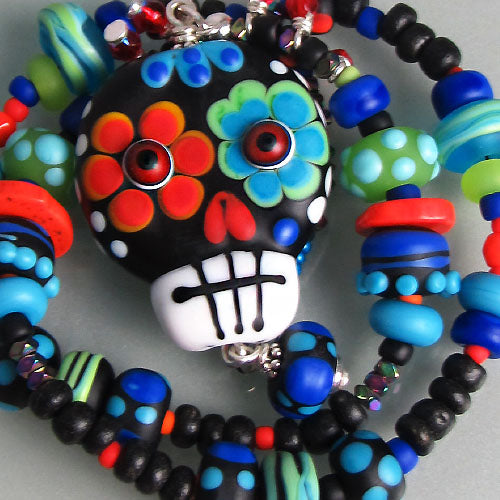 Sugar Skull ♥ Handcrafted Lampwork Necklace
$193.00
One one of a kind Dios de los Muertos Necklace. A potpourri of colors and a mix of all kind of beads strung on jewelry wire. Featuring one of Michou Pascale Anderson´s  Sugar Skull lampwork Bead. Including her signature at the flip side.
The sugar sweet ingredients of the necklace are:
handcrafted lampwork beads all by Michou, dangling swarovsky chrystal beads, finest Japanese glass seed beads ( Toho & Miyuki ), bone beads and sterling Silver
Length/Länge: Necklace: 45 cm
Sugar Skull:
36 mm hole to hole
30 mm widest
11 mm thick
Length Necklace: 45 cm
Dios de of los Muertos Halskette.
Ein Potpourri aus Farben und eine Mischung aus Perlen aller Art, die auf Schmuckdraht aufgereiht sind. Mit einem von Michou Pascale Andersons Sugar Skull Lampwork Bead. Einschließlich ihrer Unterschrift auf der Rückseite. Die zuckersüßen Zutaten der Halskette sind: Handgefertigte Lampwork-Perlen von Michou, baumelnde Swarovsky-Kristallperlen, feine japanische Glasperlen (Toho & Miyuki), Knochenperlen und Sterlingsilber
The Lampwork beads are created in the flame, one at a time, then fully kiln-annealed for lasting strength and beauty. Beads are clear glass encased and all decoration on the bead is stringer (thin glass threads) worked hot in the flame. There is no cold painting or decals etc. Colors may slightly vary depending on your monitor.