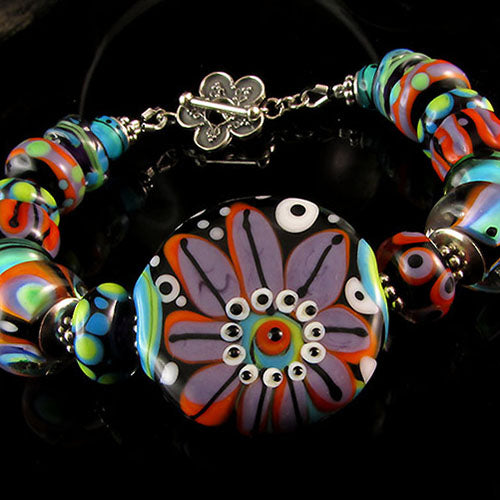 Passion of Love - Lampwork Bracelet including Sterling Silver
$189.00
This delicious bracelet consists of 16 tiny tiny to larger designed lampwork beads and 1 lentil shaped focal bead all made by me.
The colors that I have chosen for this beautiful autumn are: Purple, black, blues and greens with some hints of coral orange.
T
o complete the design I used a beautiful dainty flower clasp made out of sterling silver like everything else in this design and a few toho glass seed beads as placeholder.
Fits: 6.68" wrist sizes
Please convo me if you are unsure. I can adjust it either way if needed for no extra cost. Please bear in mind I will have to remove beads/s in order for perfection or ad a few.
Dieses Armband besteht aus 16 winzigen bis größeren entworfenen Lampwork- Glasperlen und einer linsenförmigen Hauptperle. die alle von mir in meinem Studie liebevoll hergestellt wurden.
Die Farben, die ich für diesen schönen Herbst ausgewählt habe, sind: Lila, Schwarz, Blau und Grün mit einigen Nuancen von Korallen und Orange.


Zusätzliche Materialen wurden verwendet: 
Toho Glasperlen und 
Sterling Silber.

Passend für eine Handgelenksgröße von 17,5 cm 
Falls das nicht eurer Größe entspricht? Dann bitte eine kurze Email mit der Wunschgröße an:  michou@sonicandyoko.com und ich werde es ohne zusätzliche Kosten für euch perfektionieren :-)