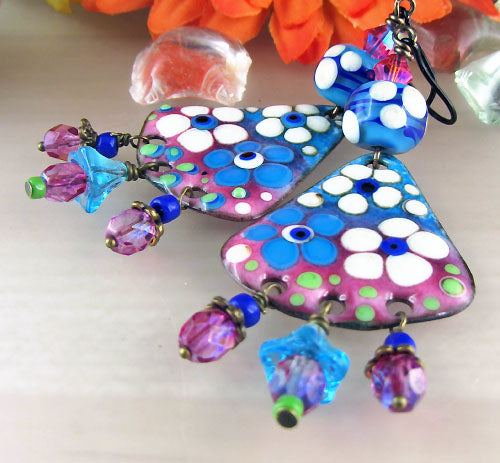 Ocean Flower ♥ Handmade lightweight fire torched Copper Earrings
$71.00
"Spring is nature's way of saying let's party." -- Robin Williams
Length/Länge approximately: 4.46" / 88 mm long 
Widest/Breite: 35 mm
Weight/Gewicht: 11 g
Lampwork beads &Torch fired 

enameled Copper Component. The decoration includes flowers and dot work all lovingly made by Michou Pascale Anderson. 
Die Lampwork-Glasperlen und handgeschmiedete emaillierte Kupfer Komponenten wurden von Michou Pascale Anderson liebevoll am Brenner in ihrem Atelier in Hamburg handgefertigt.
Further Ingredients are: Czech crystal beads and Tierra Cast Ear hooks or Sterling Silver,you decide.