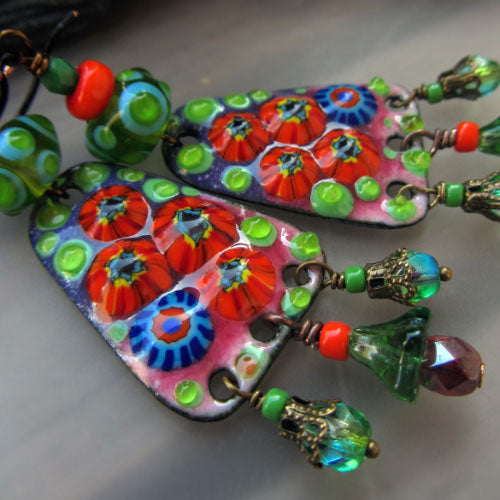 Monet's Garden - Handmade lightweight fire torched Copper Earrings
$74.00
"If we could see the miracle of a single flower clearly our whole life would change." Buddha
Length/Länge approximately: 3.34" / 85 mm long 
Widest/Breite: 25 mm
Weight/Gewicht: 11 g
Torch fired 

enameled Copper elements including the Lampwork Glass beads are lovingly handmade by Michou Pascale Anderson.
Die Lampwork-Glasperlen und handgeschmiedeten, emaillierten Kupfer Elemente wurden von der Designerin Michou Pascale Anderson handgefertigt.
Further Ingredients are: Toho Glass beads, Czech crystal bead and Tierra Cast Ear hooks or Sterling Silver,you decide...