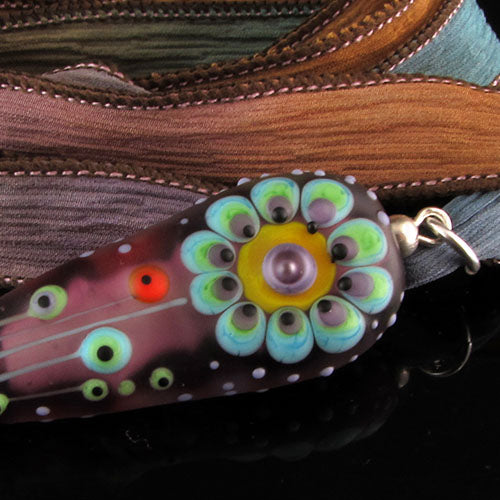 Melodie - Lampwork Pendant/Necklace
$81.00
This beautiful necklace consists out of 1 flower lampwork bead 

lovingly created by me. It is sandblasted for a frosted look. It comes on a hand dyed s

ilk ribbon which is approximatey 
52 cm (20.47") 
The bead is wire worked with sterling silver. It includes a tiny polka dot spacer bead as charm below.
Pendant approximately: 80 mm (3.14") 
Lampwork bead: 51 mm x 25 mm widest x 14 mm thick (2.00" x 0.98 x 0.55")

Diese Halskette besteht aus einer von mir hangefertigten Blumen lampwork Glasperle. Die Glasperle habe ich sandgestrahlt für einen mattierten Look. 
Sie kommt an einem handgefärbtem Seidenband mit einer Länge von ca. 50 cm.
Die Glasperle ist mit Sterling Silber gearbeitet und endet mit einer kleinen Polka dot Spacer-Perle. Der 
Anhänger hat eine Länge von ca. 80 mm. 
Pictures are showing both sides of the bead.