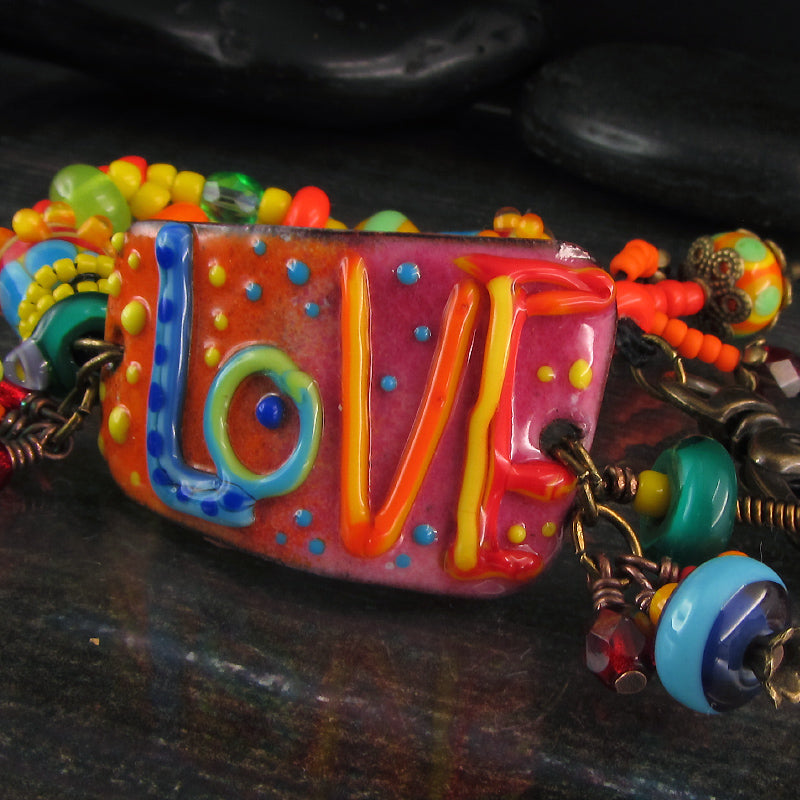 Love - Boho Chic, Lightweight Copper Art Bracelet including lampwork beads
$150.00
This bracelet is totally awesome!!!
It consists of 3 strands. The Ingrediens are: a mix of lampwork glass beads made of me, finest Toho glass beads and a few czech glassbeads. In the center of the hand-crafted, enameled copper piece with the word * LOVE *, which I wrote with thin, colored glass threads on the torch (Murano Glass). Both sides of the copper piece are adorned with charms (3), as is a trio on the back for the perfect balance. The clasp consists of a large vintage lobster clasp and the counter clasp is made of vintage wire.
This funky Bracelet size: 16,5 cm (6.5"). If that is not your size please don't hesitate to contact me and I will change it for perfection.
Size Copper Art Bar: 48 mm x 28 mm widest about 1,8 mm thick. ( 1.88" x 1.10 x 0.07" )
Dieses Armband ist total Cool!!! Es besteht aus 3 Strängen. Ein Material Mix aus von mir hergestellten Lampwork Glasperlen und feinsten Toho-Glasperlen. Im Mittelpunkt der von mir handgefertigte, emaillierte Kupfer Stück mit dem Wort * LOVE *, was ich mit dünnen, bunten Glasfäden im Feuer darauf geschrieben habe ( Murano Glas). Beide Seiten des Kupferstücks sind mit Charmes verziert (3) so wie ein dreier Grüppchen auf der Rückseite für die perfekte Balance.. Der Verschluss besteht aus einem großen Vintage-Hummer- Verschluss und den Gegen- Verschluss habe ich aus Vintage Draht gefertigt.