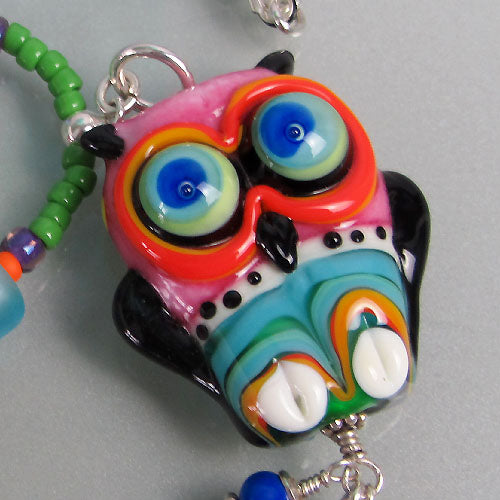 Funky, sassy Owl ♥ Handcrafted Lampwork Necklace
$118.00
A potpourri of colors and a mix of all kind of beads strung on jewelry wire. Featuring one of Michou Pascale Anderson´s  Owl lampwork Beads. 
The sugar sweet ingredients of the necklace are:
handcrafted lampwork beads by Michou. 
finest Japanese glass seed beads ( Toho & Miyuki ) and sterling Silver.
Length/Länge Necklace: 42 cm
Length/Länge Pendant: 66 mm
The Lampwork beads are created in the flame, one at a time, then fully kiln-annealed for lasting strength and beauty. Beads are clear glass encased and all decoration on the bead is stringer (thin glass threads) worked hot in the flame. There is no cold painting or decals etc. Colors may slightly vary depending on your monitor.